Michael Michalsky, Creative Director of cult brand JET SET, will be presenting his second collection at PREMIUM (2-4 July). Anita Tillmann visited him in his Berlin studio and spoke with him about nostalgia, Millennials and their shared love of Berlin.
Anita Tillmann: I think it's really great you've decided to run JET SET from Berlin and reactivate the brand from here. You're well-versed in the topic of building brands – as just one example you turned adidas into a major name. What's the secret to your success?
Michael Michalsky: I only ever get involved with brands that, at some point in my life, have fascinated or touched me. You can only be good if you understand and love the brand you're working for. Both Adidas and MCM, where I was in charge of the brand's creative direction for several years, are brands I loved, coveted and admired as a teenager and young adult. It's exactly the same with JET SET. I have known the brand since the 80s. I used to make the pilgrimage to the JET SET store in Gänsemarkt almost every Saturday and press my nose up against the window because I could never afford anything. I found it sensational at that time how JET SET was redefining the concept of 'sportswear'. The 'Luxury sportswear' category, which is so popular at the moment, was actually the invention of Kurt Ulmer and JET SET.
A: I still remember it very well too... I don't know whether that's a good thing though (laughs). For me, JET SET was always a cult. Because of that, I'm really excited to see how the collection will look for Spring/Summer 2020, which you'll be unveiling to us first at PREMIUM, of course.
M: I can't wait for PREMIUM – not least because we will be relaunching our Blue System there. BLUE SYSTEM used to be JET SET's denim label and still has many fans nowadays.
A: We can hardly wait! Tell us a bit about BLUE SYSTEM. What is the concept behind it? Is it going to be purely a jeans collection?

M: From S/S 2020 BLUE SYSTEM will be a firm fixture of every JET SET collection. It's becoming the foundation and basis for all our seasonal concepts. In the past BLUE SYSTEM always stood for innovation: innovation in terms of design, colour, finish and cut – and we want to continue this tradition. Alongside the jeans and denim jackets, there will be the legendary logo tees and logo sweatshirts again. So many people have been asking me about this. I believe that the timing for the relaunch is favourable because I am already seeing signs of a denim comeback.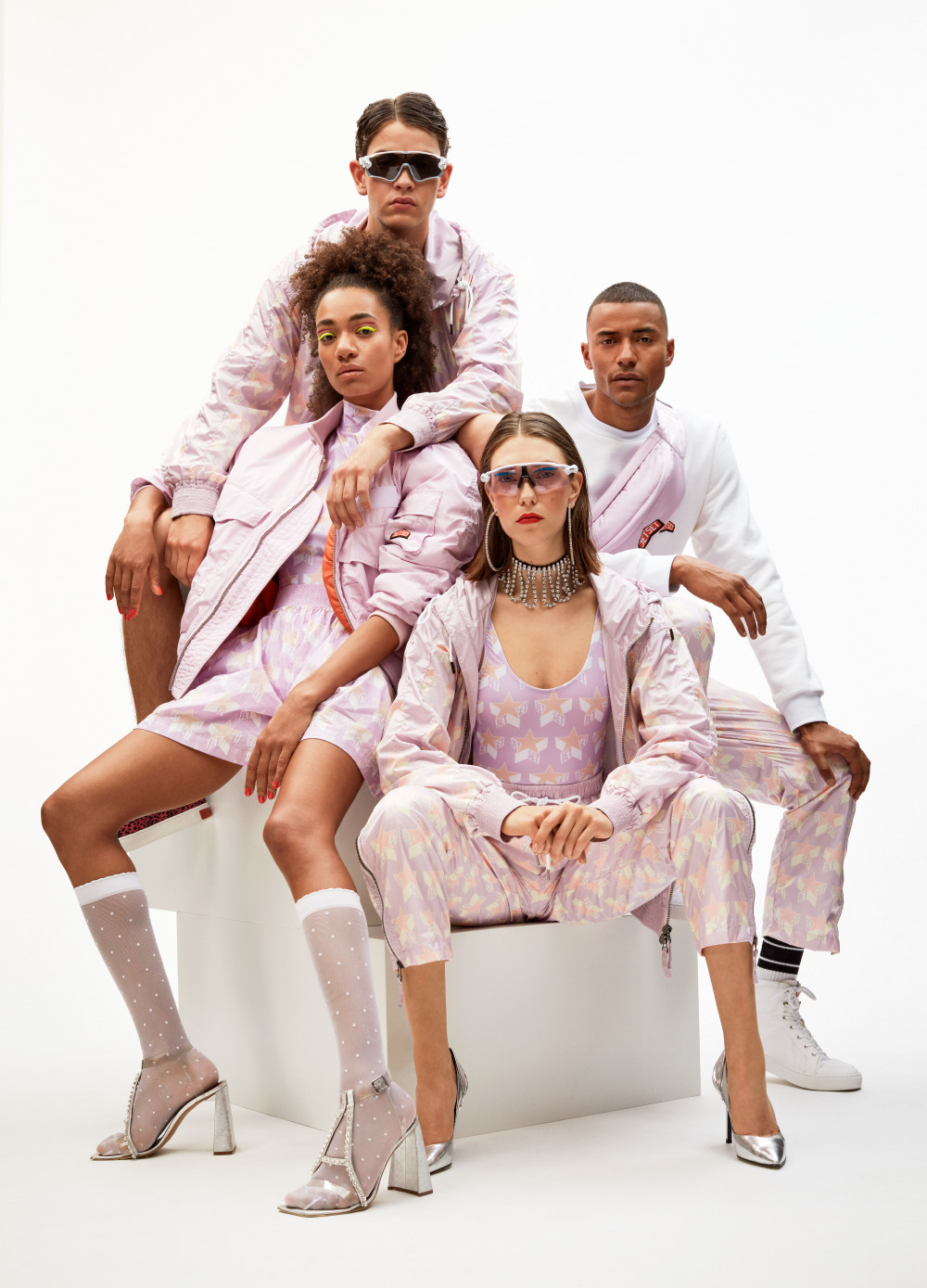 A: You are renowned for always getting to grips with cultural and social topics and you also let these flow into your work. At present we are noticing two large movements in the fashion industry: sustainability and technology. How are these reflected at JET SET?
M: These are both very important topics for us. JET SET has been fur-free since my first collection in A/W 2019. We also create jackets from recycled materials. JET SET was and is a skiwear brand. Purely because of this, our customers expect functionality and technology to feature in our products. We therefore also work with top partners like Schoeller on developing the best performance fabrics. In addition, we manufacture everything 100% in Italy – this is another very important factor for me. This isn't just for reasons of sustainability. The factories here know the brand's history and, therefore, the quality it's looking for down to the last detail – this is what defines JET SET.

A: You can see and feel the quality. I love my JET SET bomber jacket!
M: When JET SET was established in 1969 they were making skiwear unlike anything that had existed up until then. The first items, for example, were made from parachute silk sourced from recycled parachutes. This is why, as a designer, I love working with pieces from the archive so much. You find endless inspiration and ideas that are still relevant today.
A: Is nostalgia an important factor in the brand's image? And, if so, what's your strategy for appealing to young people?
M: On the one hand JET SET appeals to Millennials, because the brand is a new discovery for them, and they find both the name and the products cool. JET SET is also relevant to Millennial-minded people, however – i.e. people like me. When I told my friends I was going to be Creative Director of JET SET, they sent me masses of emails, whatsapp messages and texts with photos of old JET SET pieces that they still have in their wardrobes because they love the brand and the products so much.
A: Speaking of JET SET pieces from times gone by: did you redevelop the logo? Or did this design already exist?
M: The very first thing I did was to rummage through the huge collection of JET SET logos. JET SET changed their logo practically every season of course – especially in the Eighties. Right from the beginning, my first move was to go straight to the archive in Zurich, get out everything that would be important for my work, and send the items to our Creative Hub in Berlin. In addition, I buy an unbelievable number of JET SET items on ebay, because the archive is unfortunately not entirely complete due to the change in ownership.
A: Cool! I'd also love to look round the archive in Zurich – there must be some incredible treasures inside. Despite the history, you nonetheless decided to run JET SET from Berlin. Let's talk about our favourite city. In my view, the combination of Berlin and an economically strong Germany (together with Austria and Switzerland) is unbeatable. Anyone not doing business here is either in a niche product sector or doesn't understand it. How do you see it?
M: I'm not sure I'm the right person to ask. When I decided to leave adidas and work for myself I came to Berlin immediately – and there was still no Fashion Week at all here. I held my very first fashion show over 13 years ago in the Ehrensaal in Berlin's town hall – Fashion Week only started up six months later. I did that because I had the vision that we needed another show alongside the established locations that would present fashion in a different way. Berlin is the heart of Europe. Here, fashion is cross-pollinated by art and music more than anywhere else. I've always believed in Berlin – and I still do! Berlin is always in a state of flux, and fashion means flux. For me, my brand and the JET SET Creative Hub there is no better location!
A: One last question for you as a music-lover: if JET SET were a song, what would it be?
M: A smart, intelligent, synth-pop song. JET SET is pop!