The opening of the BECK TO BECK pop-up store during Fashion Week Berlin in July 2018 and its launch as a fashion brand attracted large crowds. The police were also there: "Mr Beck, we're really pleased that you're opening a store in the area where we operate! There are just too many people on the pavement, though – shall we give you some red and white barrier tape to guide those people standing on the street?" – "No, that doesn't look good.
Successfully launching a new brand requires precisely this attitude – this is the starting shot for BECK TO BECK's career as a fashion brand. We met Uli and Michi Beck together with their business partner, Hendrik Schimmel, at their showroom in central Berlin to discuss the right attitude.
PREMIUM: That was a highly successful beginning for the BECK TO BECK brand. What are your feelings about it?
MICHI: You could say that! The response from the media and the order requests were amazing. We consciously didn't produce pieces in bulk, but really only upon request.
PREMIUM: How emotional was this for you? Would you compare it to stage fright before going on stage? Are the two things comparable?
MICHI: Really, it's more exciting, because of course it's actually a whole new business. It's just the three of us: Hendrik, Uli and I – plus an agent whom we work with, but otherwise we take care of everything. It's like a small-scale family business where everything arrives without a filter and we learn something new every day. So it can't be compared to bringing out a new album or being on tour, it's a different thing altogether.
PREMIUM: Why are you setting up a fashion brand now of all times?
ULI: The launch was planned for October of last year for broadcasting the last season of THE VOICE. Michi was already wearing the BLINDED sweatshirt. The complete collection hadn't yet been finalised, however, so we were looking for an alternative. It would have been stupid to do it right in the middle of it, so that's why we wanted to start immediately at the next Fashion Week Berlin in July 2018.
MICHI: All things considered, it was a longer process before we came to a decision in any case: the idea was born in 2016. I was wearing a KINGS OF INDIGO sweatshirt at THE VOICE that the viewers absolutely loved. The idea of setting up his own brand was something that Uli had been thinking about for a long time though.
PREMIUM: With your unisex designs do you really make everything yourself, from A right the way through to Z?
ULI: We have our graphic designer, Stephen Paris, who interprets the ideas for us and creates the whole artwork; and our agent AVIVAwho gets involved in the production side of things. Otherwise, though, we take charge of everything.
PREMIUM: Sophisticated streetwear – to what extent does hip-hop feature – what's the idea behind your collections?
MICHI: For us, the content is just as important as the design and the fact that it reflects our roots. With the FANTAS we were the first to wear German streetwear labels, which was ultimately due to the style that I created for us as a brand. This idea of "sophistication" appeared for the first time: grown-up, minimalist, pared-back.
ULI: It's about paying attention to well-designed styles and good materials.
MICHI: Exactly! Everything took its course as regards content: inspired by THE VOICE's blind auditions, in our first collection we initially came across the concept of BLIND and then BLINDED. This concept also works well in fashion because it can be taken both positively and negatively – being dazzled by beauty, but also being blinded by hype around a trend, for instance. With the design we saw that the concept was also implemented visually, in that the word BLINDED was applied using Braille dots.
The idea of "ambiguity" is continued in the second collection, LIMITED: positive in the sense of a finite limit that generates desire; yet a finite limit can also be interpreted in a negative sense of course. This time, the optical element in the design is that the term "LIMITED" is never fully visible.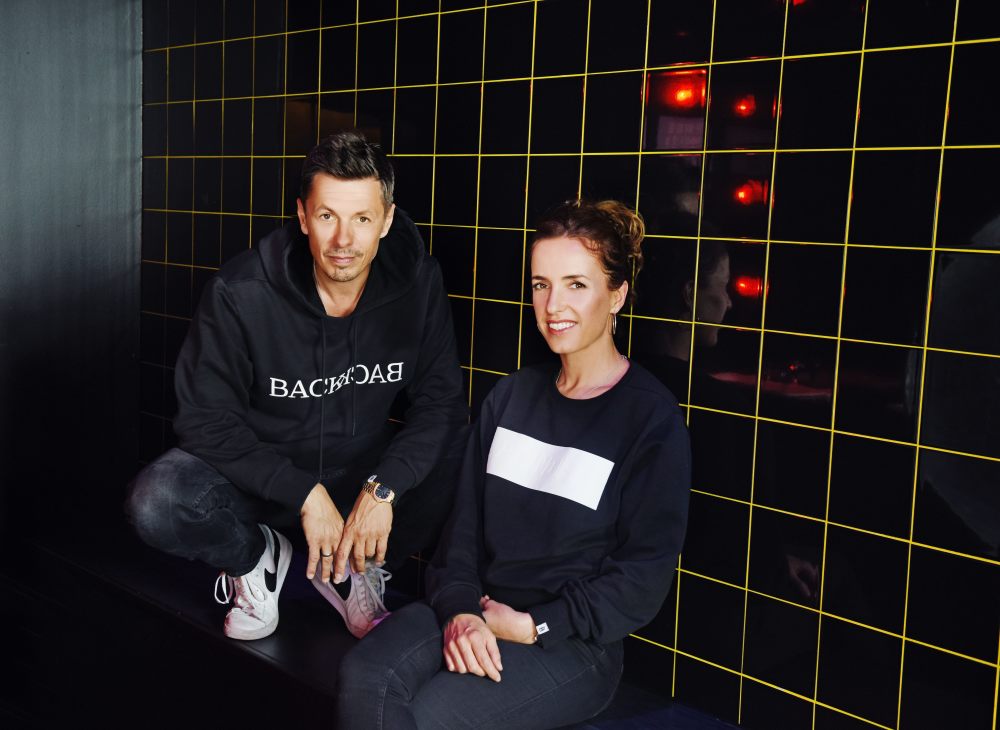 PREMIUM: Who influences whom then? Who is the influencer in your team?
ULI: It depends. We all always inspire each other. Stephen Paris is also part of the team of course: he's very creative and brings his ideas to the table. Everyone mucks in.
MICHI: Back to back* even. Like playing records!
PREMIUM: Like in a state of flow...
MICHI: Yes, we spend a lot of time together – although we never have much time. Yet we manage to make the little time we have with each other into quality time together. Whether it's at home on the sofa in the evening, or eating supper together... that's the good life for you!
PREMIUM: You have already told us a bit about your second collection, LIMITED. Is the focus of this collection still on shirts, hoodies, etc.?
MICHI: We are trying to branch out more into stitching, repeated prints, etc. We are very keen to take the next step and not simply make exactly the same things that we made in the last collection, just with a different twist – we genuinely want to go through a process of true evolution.
PREMIUM: What are your wish-list stores? Where would you love to hang your collection in Germany and around the world?
MICHI: Recently we finally managed to get our own online shop – becktobeckshop.com – off the ground, which we have done very well I'd say. Otherwise we're really happy with our set-up and we're pleased that stores such as ABOUT YOU, Egoist, Ludwig Beck, Jades, Abseits and Thomas i-Punkt have come on board. There were also a few other stores that wanted to combine the order with an autograph session, which we declined. The stores currently in place are the right ones in this respect; namely those that believe in the label.
PREMIUM: And how about you personally? Do you tend to buy online or shop in-store?
ULI: I don't buy online that often really, because I always prefer to try things on first. I mostly only order online if I can't get it anywhere else, or if I want a very specific item.
MICHI: For me it's a bit like being a pop star, I have to admit. When I'm abroad I love going shopping and I go a lot. When I'm here, though, it's not as relaxed because you frequently feel you're being watched. I'm often recognised in Germany...
PREMIUM: What do you like most about what's hot right now? Especially as regards the fashion here in Berlin?
ULI: I think it's great that there are no no-gos. There's nothing you can't wear. And I like the fact that people are all so open. You never get looked at strangely. No-one stands and points at you.
MICHI: Being a city of fashion means Berlin is a hub for all experiences and anything goes! I believe the city is seen as an experimental playground – and this is also Berlin's forte. It's not as "established" as Paris or Milan – it's completely different... that's exactly what makes it exciting!
PREMIUM: Which hot-spots can you recommend?
MICHI: I'd love to be able to give you the lowdown on something new, but...
ULI: ... at the end of the day, you still go to those places you know and trust.
MICHI: ... to the Grill, to Borchardt, etc..
ULI: ... Soho House, Volkspark Friedrichshain – which is just outside our back door.
MICHI: To be honest, it's more important for us that we manage to make time for our friends, and having kids doesn't exactly make it any easier of course. So we're by no means the hot-spot spotters any more. Hot-spot number one is on our balcony at home. (laughs)
ULI: That's just how it is: whenever we have a bit of leisure time we travel loads. We make the most of holidays spending time with our friends. Apart from that we work a lot, or party in the street – with or without barrier tape.