Dear Marie! Welcome to PREMIUM and welcome to the fashion industry. You should be so proud of yourself and what you have already achieved. What is the idea behind Kragenweite? Tell us something about the background of your young company.
Thank you very much! I am also very happy to be part of PREMIUM. I came up with the idea for Kragenweite after finishing my product design studies. Unlike fashion, product design is about solving problems - one problem I had encountered was that of finding good T-shirts, something my male friends often complained about. I saw this as a problem worth solving, so I began with the product development.
What is special about your collection?
Our aim is to gradually build up a collection of perfect basics. It is not about releasing two complete new collections per year. We work on one item of clothing at a time and develop it as long as it takes, until it lives up to our expectations. For PREMIUM we developed a polo shirt based on the shape of our T-shirts – seamless on the shoulder and slightly more casual than the classic version. What also makes us special, is that we produce in Germany, which is very rare in fashion.
Which stores would you like your items to be available in?
The Corner in Berlin was always a dream for me, which is why I am incredibly proud that our T-shirts are now available there. Next on my list would be my favourite shop in LA, the Mohawk General Store.
Let's talk about role models. Which female designers are yours - and why?
I am a big fan of Stella McCartney and Victoria Beckham. I find it so impressive how these two ladies built up their own brands. I love both of their styles, both are quite different, but amazing in their own way.
What does a normal working day consist of? Is there a certain routine in your life or is it new every day?
After answering and writing emails in the morning, I pack and send out any online store orders. Apart from that, my current work strategy is best described as "learning by doing". For example, I was responsible for the complete production of a prototype style, as well as for the planning of our booth at PREMIUM. My tasks vary a lot, but I love to work like that: Continuously teaching yourself new things is the best way to learn and understand them!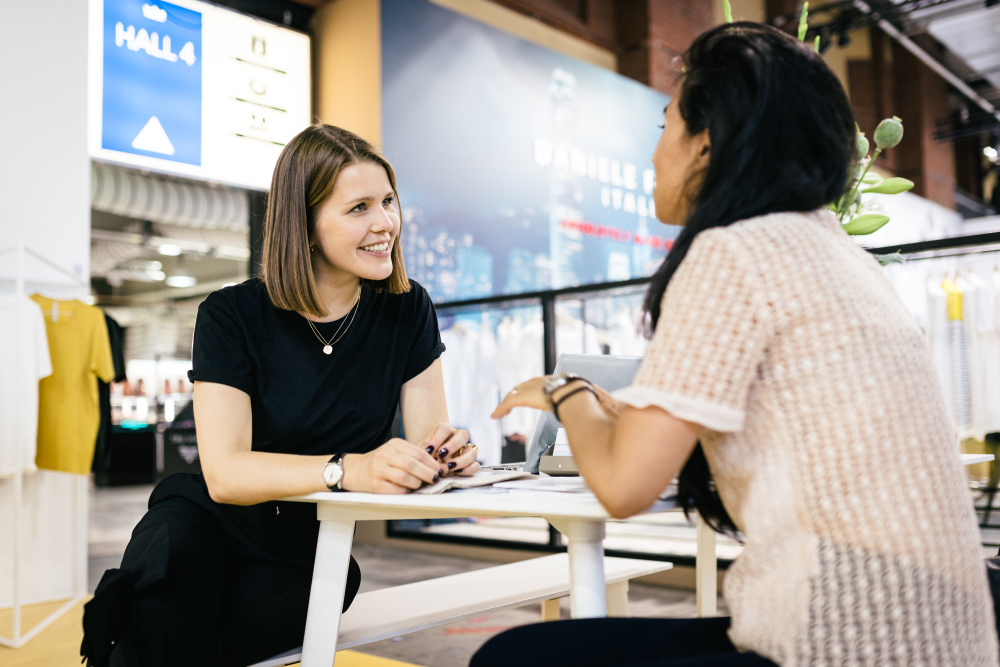 What inspires you – both in your private life as well as as an entrepreneur?
I think that it is mostly my surrounding. My constant exchange with many creative and exciting people inspires me with new ideas and makes it inevitable for me to develop. I also spend a lot of time visiting exhibitions and attending concerts – I love visual arts and music.
Who would you like to work with and why?
Unfortunately it is no longer possible to work with Dieter Rams, but if it were, he would be my top choice! I see him as the Godfather of Design and I love his minimalist and clear concepts. I'm sure he could have taught me a lot. But also Helmut Lang in his time as a fashion designer.
Where can we find you in Berlin, what are your favourite places?
I live in Hamburg, but I often work in Berlin. As soon as I arrive here, I visit The Klub Kitchen. This is my favourite café, where I always order the ginger pulled chicken, the best dish in the world! In general, I really like the area around the Mulack- and Steinstraße in Berlin-Mitte, where there are always new little shops to discover. If I need peace, I go to the Grunewaldsee. One round around the lake always calms and clears my mind.
Which brands can we find in your wardrobe?
I wear a lot of different labels from all over the world, a result of my travels. I also wear a lot of my mother's vintage pieces, for example by Comme des Garçons or Romeo Gigli. The most omnipresent brand in my closet is probably Acne though. I love the collections, because the minimalistic pieces are always so easy to combine with each other. As I already mentioned, I am also a big fan of Stella McCartney. Her cuts fit me perfectly and I like the femininity and playfulness of her style.
What do you like and dislike when looking at the current fashion?
What I don't like at all is the "ugly style" – purposely looking like you didn't make an effort, by clumsily combining strange and unfitting pieces. In my opinion, this is disrespectful to fashion, a fairly self-centered critique of the system that leads to nothing. What I really like when I look at fashion today is the fact that it's getting more and more courageous. I would say that everything is allowed these days: the fun of dressing up is back, mixed with the attitude of punk. It is all about how you combine what you already have, instead of only rotating around status pieces.
What was your worst teen outfit?
When I was a teenager, I spent a lot of time buying awful techno pants at a shop called Cyberdog in London. During that episode, I also liked to wear neon-pink fur leg-cuffs. Not such a good look in hindsight!
And is there also a piece of clothing that you threw out and now wished you'd kept?
Spontaneously, no. I generally have difficulties parting with my belongings, so most of the clothing I ever owned is still packed up in a box somewhere in my attic.
What would you like to share with other founders?
For sure, the first step is to just do it, to have the power and courage to start your own business. But what I feel as even more important is to always stand behind your idea. There will always be people who don't understand your visions or decisions, but if you believe in your idea and refrain from justifying yourself, you can convince everyone!
What made you decide to exhibit at PREMIUM this season?
After being part of the market for one year now, it felt like the right step to take part in a fashion fair. My motto is always to "go hard or go home", so PREMIUM was obviously the only option!
Find more information here: kragenweite.berlin