Sustainability is not a trend, it's a duty. As an initiator of change within the industry, PREMIUM is setting an example for more eco-consciousness in fashion by partnering up with Ecoalf for the Autumn-Winter 18-19 season. The brand transforms plastic bottles; car tires and disregarded fishing nets into high-quality sweaters, jackets and shoes. With its slogan "there is no planet B", Ecoalf is raising awareness towards the issue of improper garbage disposal and the resulting marine debris.
With a stand at PREMIUM as well as a presentation by brand founder Javier Goyeneche himself on the fifth floor of KÜHLHAUS at SHOW&ORDER X PREMIUM, Ecoalf presented its vision and philosophy to selected guests and interested show visitors.
"For us as a small company, it's really an honor to be able to present our mission at the PREMIUM GROUP shows. It's imperative for people to hear a different message. The biggest problem of our society is that we are not aware of the dimension of the issue. It's no longer about what you do, it's about how you do it."
Apart from the international audience, Berlin's mayor Michael Müller came to PREMIUM on Wednesday, 13thJanuary and also paid a visit to Ecoalf in Hall 3. "We are very pleased with the stand at PREMIUM. We had a high frequency and even had more Spanish visitors than at Pitti Uomo in Florence."
To dedicate even more space to the cause, Ecoalf and conceptual artist Juan Garaizabal collaborated on a special #thereisnoplanetbinstallation, exhibited in the inner courtyard of the STATION. Being purposefully interactive, the art piece educates visitors about correct waste disposal and reducing your environmental footprint.
"As a team, we are both visionaries looking for ways to make noise about what we are doing and how to make an impact with what we are doing." – Juan Garaizabal on his partnership with Javier Goyeneche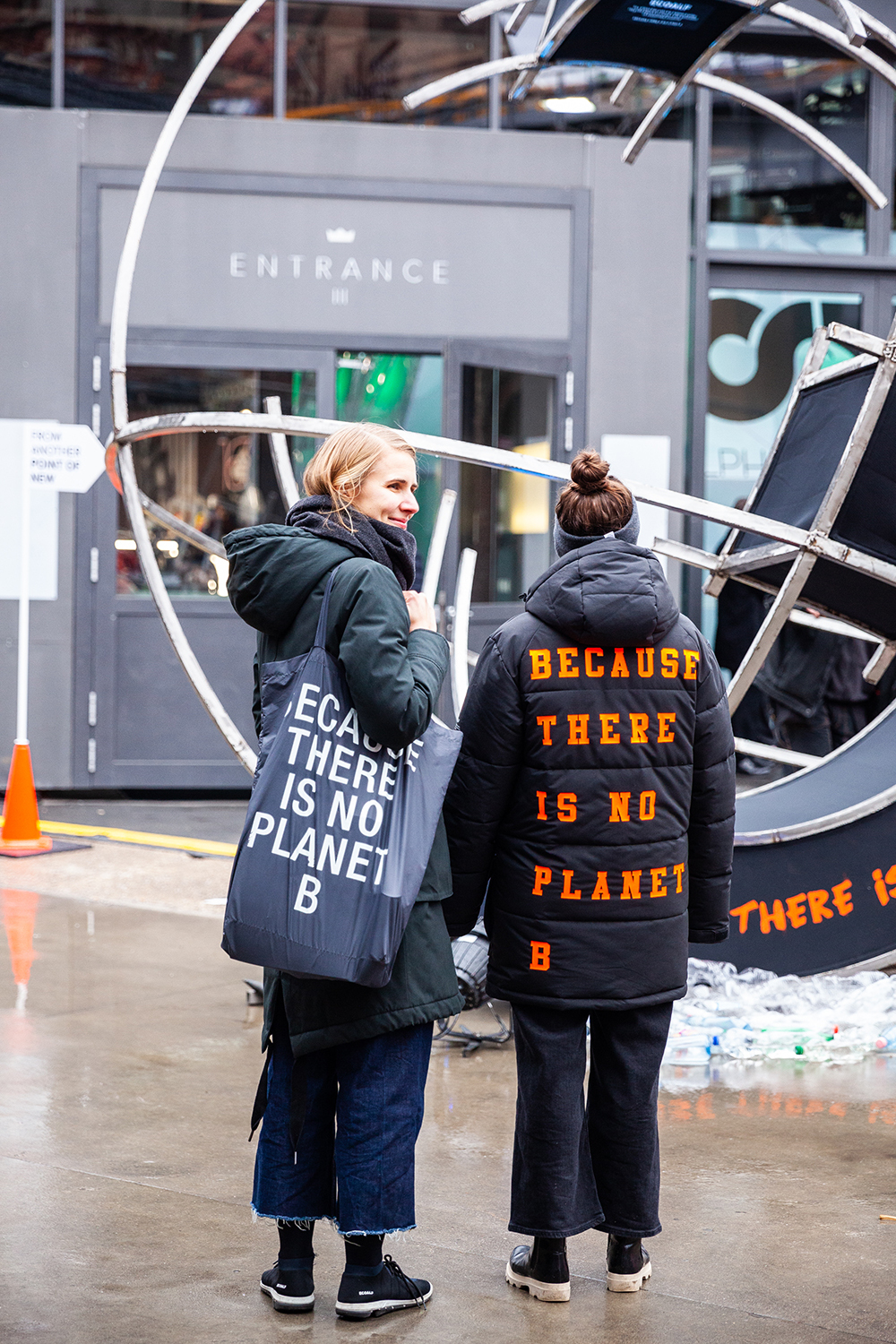 About Ecoalf
Ecoalf was founded in 2009 by Javier Goyeneche after his son was born. Goyeneche, having previously worked in the fashion industry, was frustrated with the careless use of natural resources by society and especially the fashion world. His mission: to create the first generation of recycled products with the same design and quality as non-recycled products.
Since then, Ecoalf has created over 300 materials and fabrcis from plastic bottles, fishing nets, coffee grounds, car tires, post-industrial cotton and wool. The waste is collected from the bottom of our oceans – one of the places that's most affected by wrong garbage disposal. By 2050, there will be more plastic than fish in the ocean. That's why Ecoalf has partnered up with more than 3000 fishermen in Spain alone for their initiative "upcycling the oceans".
In 2017, the UTO project has been replicated in Thailand after a request by the government. For its global engagement, Ecoalf was the first Spanish fashion brand to have been awarded with the B-Corp certificate, honoring companies as not only the best of the world, but the best forthe world.