Next season's trends are tending to show purer tones and clear shapes once again. Minimalism as a philosophy and a simpler, more sustainable, sometimes pretty bright way of life will also inspire our looks. Scroll down to see how sophisticated this clean approach can be and discover new brands and trends.
SUIT UP!
Nothing says #GIRLBOSS like a badass suit in bold colors.
SUNFLOWER FIELDS
Fresh, powerful yellows with a touch of green.
WORKWORKWORK
Loose fits for hard working women.
EARTH, WIND AND FIRE
Soft and strong tones for romantics and purists.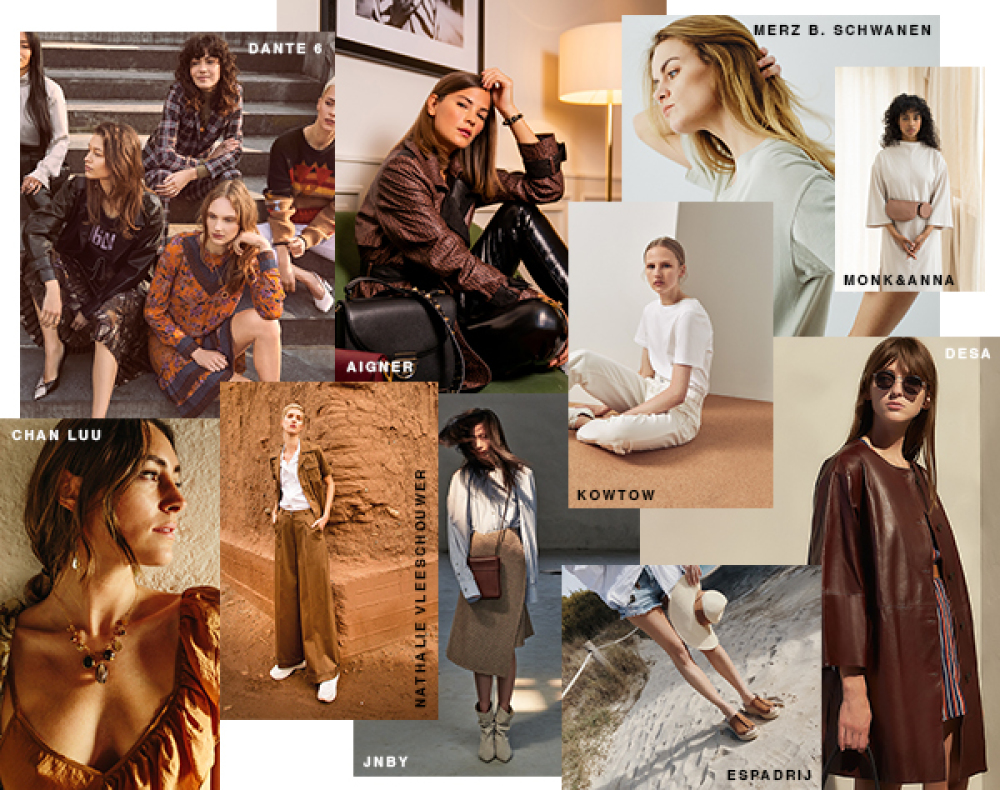 HIGHLIGHT WOMENSWEAR BRANDS
PREMIUM
ACOTÉ / AMERICAN VINTAGE / ARMEDANGELS / BRUUNS BAZAAR / BOYISH JEANS / COSTER COPENHAGEN / DANTE 6 / DEVOTION TWINS / DRYKORN / ESSENTIEL ANTWERP / EUROPEAN CULTURE / FILIPPA K / GANT / GOOD MATCH / HERZENSANGELEGENHEIT / IHEART / ILSE JACOBSEN HORNBÆK / JET SET / KAOS / JUST FEMALE / LACOSTE / LAURÈL / LIU JO / LIV BERGEN / LIVIANA CONTI / LUISA CERANO / MAERZ MUENCHEN / MAJESTIC FILATURES / MOS MOSH / RICH&ROYAL / ROSEMUNDE / SAND / SECOND FEMALE / STINE GOYA / STRELLSON / THE MERCER N.Y. / VELVET BY GRAHAM&SPENCER / ZOE ONA / AND MANY MORE >>
SEEK
ALPHA INDSTURIES / AER SCENTS / ARKK COPENHAGEN / BEAUMONT ORGANIC / BURTON / CHAMPION REVERSE WEAVE / CHIEMSEE / CLAE / CROSS COLOURS / CUS / DIARTE / DICKIES / DR. DENIM / ELLESSE / FILA / FRED PERRY / FRISUR / HAN KJØBENHAVN / HELLY HANSEN / KEDS / KINGS OF INDIGO / KLITMØLLER COLLECTIVE / KOMONO / KOWTOW / LAZY OAF / LE SPECS / MASKA / MERZ B. SCHWANEN / NATIVE YOUTH / O MY / BAG / PALLADIUM / SANDQVIST / SKALL STUDIO / TEVA / THINKING MU / TOO HOT TO HIDE / UGG / VEJA / WEMOTO / AND MANY MORE >>
SHOW&ORDER X PREMIUM

AMAZING WOMAN / ANOKHI / ANOTHER BRAND / BARONE FIRENZE / BLACK AND GOLD / BLUKEY / BLUTSGESCHWISTER / CANYON WOMEN SPORTS / COTTON CANDY / FREAKY NATION / GANG / GERTRUDE+GASTON / HENRY CHRIST / ISILK / JILANI COLLECTION / KLAUDIA KARAMANDI FASHION / LIEBESGLÜCK / RAFFAELLO ROSSI / RAVENS VIEW IBIZA / RENÉ DERHY / SAINT TROPEZ / SIMONE BRUNS CASHMERE COUTURE / SISTER LAELA. / SOAKED IN LUXURY / VIRNAMILANO / VIVE MARIA / VON&ZU / YAUVAN / AND MANY MORE >>