We meet Mo Ghandehari in the lobby of his interiors store, Hotel Ultra. Read on to find out what constitutes an interiors store and why it's worth a visit.
How often do you and your team get asked if you are a hotel?
Often.
People start smiling the moment they walk in...
Yes exactly, that's the idea! Provocative, sarcastic, unusual... this is what we stand for.
How did you come up with the idea for Hotel Ultra?
I wanted to create a store for furnishings, interiors and design. I put my whole heart and soul into this project. I'm neither a designer nor an architect, but I am incredibly passionate about design products. So I told myself: if I can't design or manufacture the items myself I can just trade them.
How did you decide on the name?
It quite quickly became clear to me that I wouldn't call the store ABC-Design, or by my surname or a similar option. As I'm a big Depeche Mode fan I get lots of inspiration from their song lyrics and titles. Hotel Ultra is from a fun video when they moved from bar to bar as a trash band. One of the venues was called Hotel Ultra – a fictitious hotel. The song "It's No Good" is from the "Ultra" album.
The name therefore became the manifesto...
Yes, and it was clear that if we named the store this the look and concept then had to follow on from this idea. You can see the look for yourself: both the sign and the Reception area, which is the till, reflect the idea of a hotel – as do the bike racks, for example, which represent the garage. The symbolic rooms are these 36 sales boxes on the wall – we have no other rooms of course. Accordingly, we have 36 keys for these boxes. The clocks above Reception normally show the time in the different time zones. In our case, the clocks show the time in the countries of origin of brands that we offer here in the store: e.g. Italy, Turkey, Japan or Bosnia-Herzegovina.
A 360° concept then.
Yes, the hotel concept was an easy one to play around with. A hotel is very receptive to interiors: there is a lobby – where we're sitting at the moment (points to the "Lobby" sign), and behind is the mini café. Above we still have the "To the spa" sign, for instance – which for us consists of a washbasin and toilet. As a whole we have continually tried to pick up on everything that makes a hotel interior, which we have then decorated with our own products. In conceptual terms we said: because we obviously don't have anyone sleeping here overnight it's the brands and products that check in as our guests and then, after a certain period of time, check out again. The hotel theme is also replicated in the packaging – mini suitcases used as gift boxes. They are the perfect size like this for online orders too.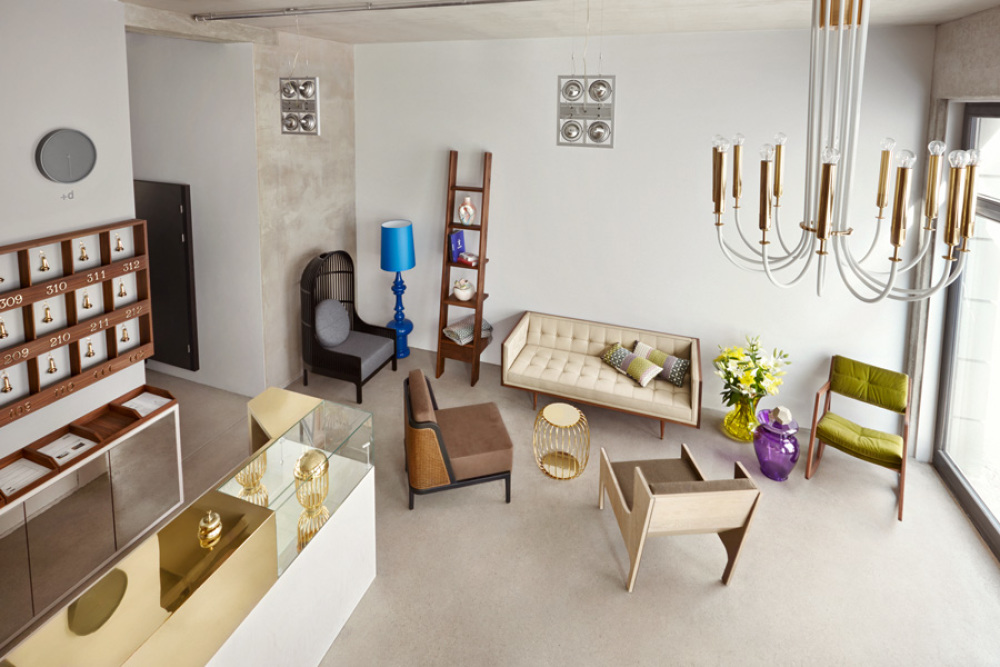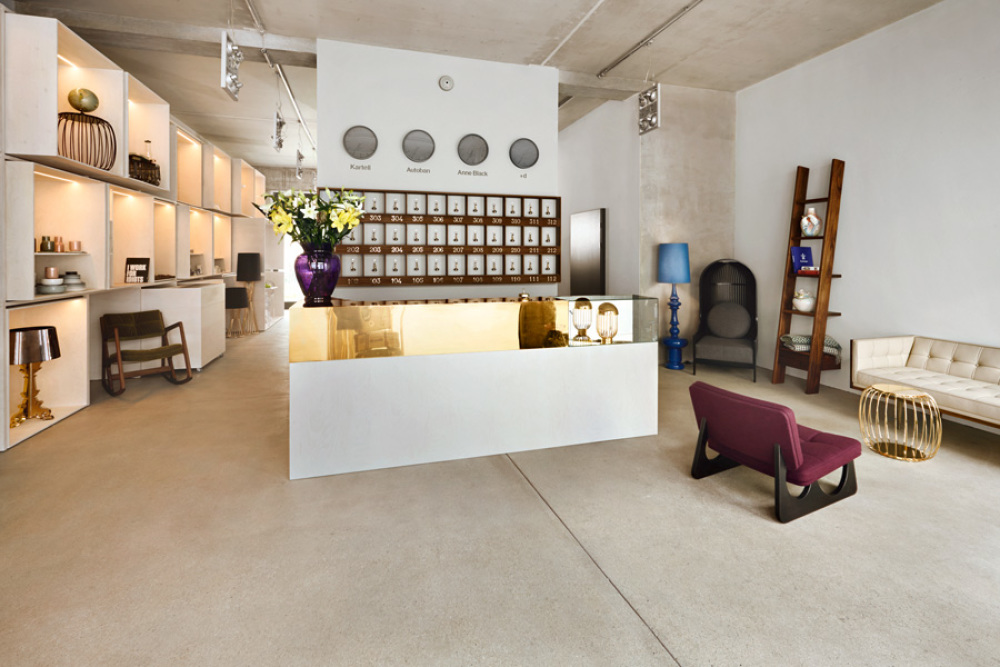 What sort of attributes should a product have to check in with you?
For us it's always important to have brands that no-one else has yet. I find it exciting to stock products by designers from Istanbul, for example, rather than from the traditional design regions such as Scandinavia or France. We make a lot of decisions based simply on our gut feeling however. It's important to us that we actually really like the product and that it has a special something about it. The product needs to have an element of sarcasm, humour or a certain something to it – we really don't take things too seriously here! There are a couple of brands that I like that never take themselves seriously. Selleti, for instance, with their banana-shaped Huey, Dewey, Louie and Phooey lights. They must have had a laugh even just naming them.
Describe your taste?
As a general rule things shouldn't be too banal or mass market. That's not to say I don't like things like this! There are enough other good retailers offering these products, however, who therefore have a different target audience and a much larger sales space to boot. We don't want to keep it too strategic. I like brands that tend to be bright or quirky, i.e. not conservative: brands that are just fun. We don't really stock products that you need to live – there's not a single essential item there. We have products that help make life more beautiful.
Mo in private: what do you especially like about hotels?
I love to travel and staying in hotels is luckily part and parcel of this. I think of hotels as a temporary home from home where I might not have furnished it myself but someone else has done it for me. In architectural terms, designing a hotel is probably the supreme discipline, because you need to bring together design and function in the smallest of spaces and with a limited budget. It always makes me happy to see how good hotels incorporate small, lovingly thought-through details in both the design and service, creating an atmosphere but carrying out their function all the same. Teamed with a gorgeous location, nature, mountains, sun, beach and sea, this always results in a great rest and fantastic inspiration.
And which are your favourite hotels?
My absolute favourite hotel is "Das Regina" in Bad Gastein, Austria, located in the mountains together with the charming town. Ever since it was opened by two friends of mine, Olaf Krohne and Jason Houzer, I have stayed there for my ski holiday every year without fail.
My current favourite hotel by the sea is the "Rensamui" on Koh Samui. I have rarely experienced such an obliging, friendly, warm, genuine reception in such an unbelievably beautiful setting. The hotel is already a couple of years old so the high gloss has a few scratches now but this only increases its charm and it has amazingly lush grounds. When it comes to city-based hotels, two of my favourites are the "Grand Hotel Central" in Barcelona and "Flattered Apartments" in Porto, which is furnished with many of our products by De La Espada. However I also have to say that Soho, which is still a very small chain, has a brilliant knack for transforming special buildings into super-atmospheric hotels.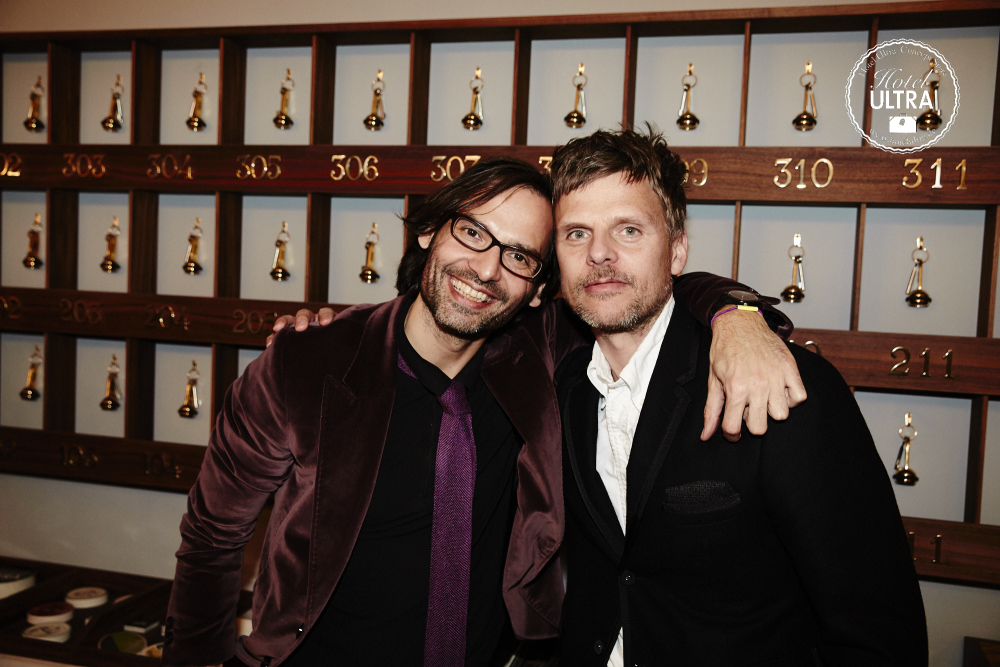 Text: Mareike Brünig
Pics by Hotel Ultra