PREMIUM's next generation development programme, Young Talent, has a new winner: Janina Waschkowski with her label Nove.
Nove stands for sustainable womenswear from Berlin, manufactured in Europe. The look: modern, clean-cut designs and timeless silhouettes for women at every stage of life – including during pregnancy, for example.
"Nove was set up to allow every woman to dress and feel the way she wants to every day – timeless and beautiful," says Janina Waschkowski. "I want to empower women to feel good about their bodies at all stages of their lives. I am, of course, totally over the moon about being named PREMIUM Young Talent for this concept. Having a presence at the trade show brings lots of new opportunities and contacts – and is therefore the ideal starting point for selling my collection."
As part of the programme, Nove will showcase it's very first collection at PREMIUM from 14-16 January 2020 – in the centre of the main hall (Hall 3) at STATION-Berlin.

Each season, the PREMIUM team selects and nominates a brand as the PREMIUM Young Talent. This gives the chosen label free exhibition space at PREMIUM for two seasons, as well as an exclusive presence at Galeries Lafayette in Berlin.
STRONG PARTNER FOR PREMIUM AND NOVE: THE WOMEN'S NETWORK DAERE
In January 2020, the Daere women's network will join as a partner organisation for the first time. The initiative, launched by Annika Rogge, Isabell Briest and Kinga Katharina Slota, promotes women's networking through the already very successful #itsaboutbrunch and, in future, will include many other events to bring together and inspire women and offer them a platform. The project team at PREMIUM is also made up of women and is keen to drive forward the theme of 'women in business'.
"We're very lucky that Daere is going to be joining as a partner next season. Together, we are able to draw on a powerful network that can facilitate awareness of a young brand like Nove, giving it a successful start in the fashion industry. We are therefore going to be hosting a business lunch with our partners at Daere, where we will bring together various agencies, press, influencers and retailers around a table together with Nove." Anna Beuss, PREMIUM.
The PREMIUM Young Talent x Daere business lunch will take place on 09.01.2020 at SO/ Berlin Das Stue – by invitation only.
We would be happy to offer you interviews with Nove, Daere and PREMIUM Young Talent; or come along to PREMIUM between 14-16 January 2020 and get to know all of them face-to-face.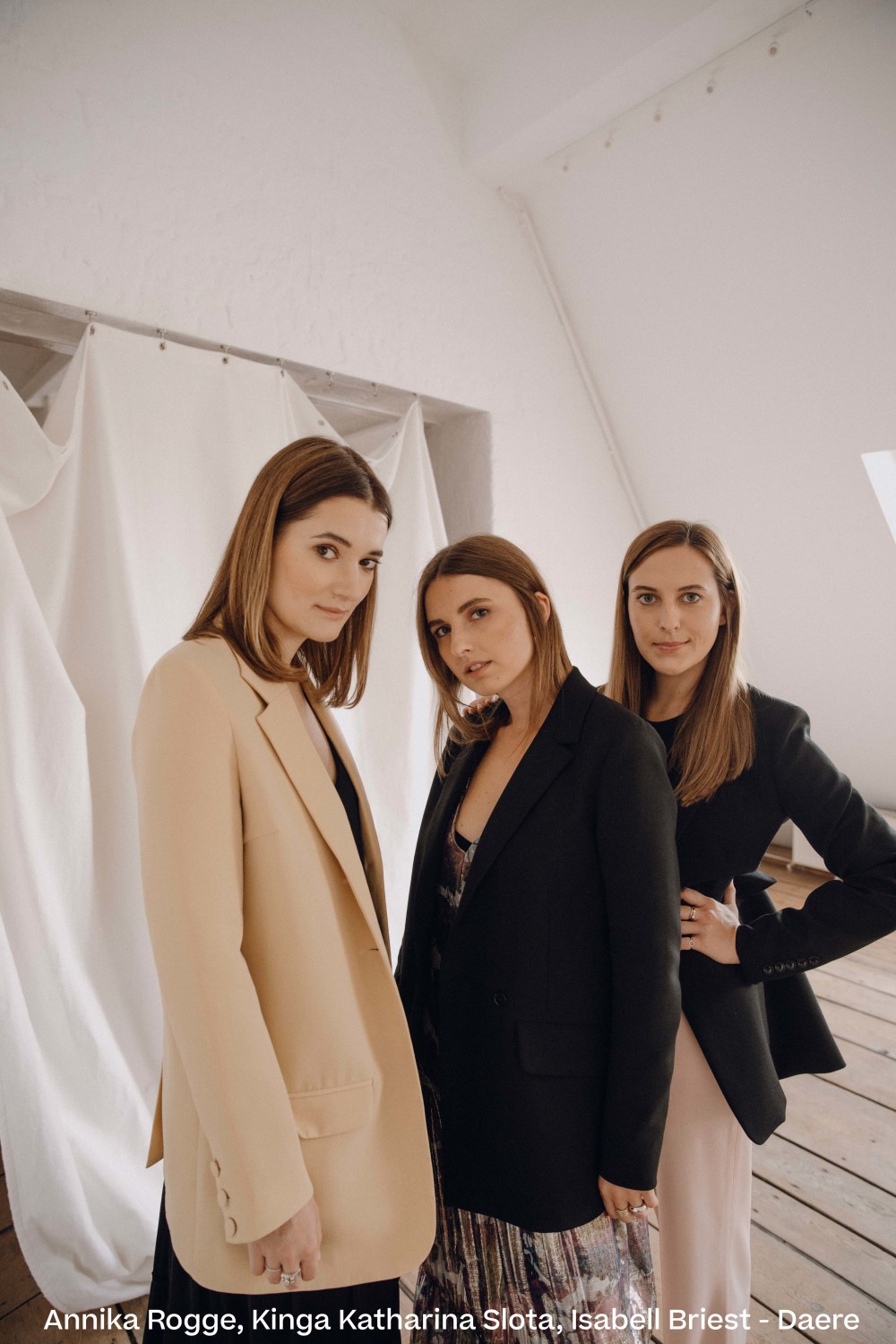 Nove manufactures high-quality womenswear that remains wearable its whole life. Nove clothing fits before, during and after pregnancy. Designed in Berlin, sustainably produced in Europe.
DAERE is an initiative for promoting dialogue between women, since we know that honest interaction generates solutions and expands horizons. DAERE trusts in the strength of the community and believes that new opportunities come about through genuine connections. We aim to inform, to be a safe space, and to stimulate the creation of refreshing new ideas. DAERE is the brainchild of Annika, Isabell and Kinga. Its mission is to network, inspire and offer women a platform. The initiative covers issues relevant to women who work: society and culture, well-known individuals, fashion, career and self-care. The focus is always on a light touch, quality content and information slowdown.
Register Here for all PREMIUM GROUP shows from 14 – 16 January 2020